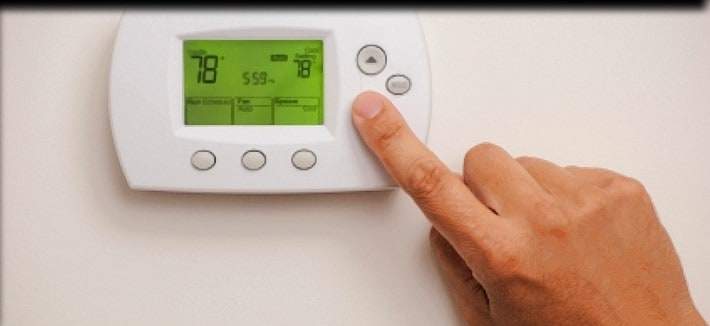 A thermostat is usually a small object on the wall of a home near the center of the living space. The standard thermostat model is designed to make it blend in with its surroundings and appear unobtrusive. However, this makes it easy for people to take for granted the job that a thermostat performs, which is critical for quality comfort in both hot and cold weather and for maintaining energy efficiency.
Thermostat technology continues to evolve, and the current cutting-edge models have fantastic features that help save money while providing better heating and cooling. Our technicians at the Cooler Company can install new thermostats in your house to help you improve your comfort around the year. If you are only looking for repairs for your current thermostat, you can also call us in Colorado to arrange the work you need. Don't just treat the symptoms — remove the problems from the air in every room of your house — from your bedroom to your basement with an air cleaning system from Aprilaire — the leader in whole-home air cleaning technology.
Turning your thermostat down even a few degrees can actually have a big impact on your heating bills. For each degree under 72 degrees that you set your thermostat you can save 3 percent! Those savings can really add up over time, especially if you have a programmable thermostat that can automatically lower your home's temperature when you do not need a lot of heat, such as during the day when everyone is a work or school.
The Impact of a Malfunctioning Thermostat
A thermostat can develop a number of different faults. The two most common are for the thermostat to lose its connection to the rest of the HVAC system or for it to become miscalibrated and start to read incorrect temperatures. Both are serious issues: a lost connection can mean a heater or AC that won't turn on or turn off, and miscalibrated readings will cause the comfort system to behave in ways that drain energy and create uncomfortable temperatures in the house. Because modern thermostats are complicated devices, you must have professionals handle repairing them. In some cases, it's probably better to have the old units replaced.
Thermostat Installation and Thermostat Replacement Options
How old is the thermostat in your home? If you still have an old manual model that uses sliders or dials, or a digital model with no extra features, it's past time for an upgrade. Here are the options to consider for a new thermostat installation:
Programmable thermostat: A digital programmable thermostat gives you greater control over how energy is used in your home. You can come home or wake up to a comfortable environment, but do not need to waste power keeping the AC or heater running until that time.
Wireless thermostat: Without the need for hard–wiring, thermostats are much easier to place in a home. A wireless thermostat is ideal for a zone control system. Most models come with remote control for greater convenience.
Smart thermostat: The leading edge in thermostat technology today is the "smart" models. What makes them smart is that they learn from your settings and use that data to create their own programs that maximize energy use. Smart thermostats usually come with Wi-Fi capability so you can control the thermostat from anywhere you have an Internet or smartphone connection.
We Have the Thermostat Services You Need
Sometimes the best way to advance your home comfort needs isn't with a huge new replacement. Changing or repairing the thermostat can make an enormous difference. The Cooler Company would like to show you the possibilities, and we are also glad to handle repairs for your thermostats. Our Colorado heating and cooling experts have the skill and experience to get the job done right.
To schedule an appointment, call the Cooler Company today.